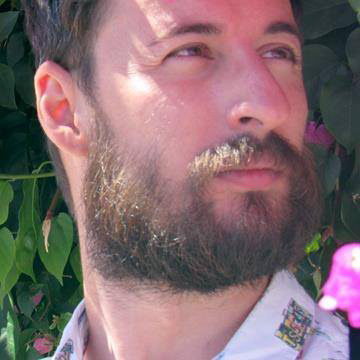 Motion Graphic Designer | 3D Artist
Alberto Herguido was born in 1982 in Almería, Spain. After completing his studies at IED Madrid
Istituto Europeo di Design

‎
, he established his own design studio in Madrid before relocating to Dublin. Through his design, illustration and typographic practice he has developed an intuitive way of working that has resulted in his expressive visual style.
For Alberto, typography functions on two hierarchical levels. First, there is the image of the word we see; reading comes secondary. As a designer, Alberto focuses on the potential of language as a visual medium, pushing language to its limits so that seeing and reading become the same action and text and image become one unified expression

.
Mixing styles, genres and dra

wing equally from

pop culture, street culture, fashion and music, Alberto has created digital perimeter advertising for a diverse range of clients:
Adidas, Veltins, Engie Electrabel, Audi, Proximus, Amstel, Telekom, Deutsche Bahn, SwissCom, Coke, Pepsi Co, STC, Deustche Post, Qatar Airways, Super Bock, Axpo, Itaipava, Aquascutum, Ziggo, Tipico, Siemens, Allianz, Movistar, Trentino, Octopus Energy, SAP, Porsche, Mr Green

and many others.
Alberto's work has been nationally recognized throughout his career as an audiovisual graphic designer also internationally thanks to the participation in the VFX department for the animated movie Planet 51 winner a Goya Awards for Best Animated Film, appearing in cinemas and publications worldwide.
Alberto currently lives and works in Dublin.
Alberto has worked across different disciplines to create design solutions tailored to meet the needs of each client. He works collaboratively with a range of clients in many sectors, in television, developing a visual language for the prime time program

La Noria, Un Tiempo Nuevo

and other important collaborations like

Sálvame

and

Sálvame Deluxe

, a successful television program from La Fábrica de la Tele Productions, in advertising campaigns for well-known companies like Coke, Adidas and Audi and in sports creating giant screen, perimeters and fascia in some of the biggest stadiums for

Real Madrid, Bayern de Munich,

FC Celtic, RSC Anderlecht, FC Luzern, Arsenal

and many others in more than 60 countries.
With every new project, Alberto fuses his aesthetic sensibility with a prescient cultural understanding to create distinctive designs, illustrations and video animations.
Audiovisual Productions:

- Mandarina Productions
- La Fábrica de la Tele Productions
- Secuoya Group
- Boomerang TV
- Canal Mundo Producciones Audiovisuales

Telecinco Mediaset, Telemadrid Television, TEN Channel and Veo7 Television.
AIM Sport, FCB Global and Smartbox Group
.